This method is useful when you want to invite a lot of people to join your site. However, if you just want to add a few users, then you should add them manually.
To add a new user on your WordPress site, simply click on Users » Add Newand fill out the form.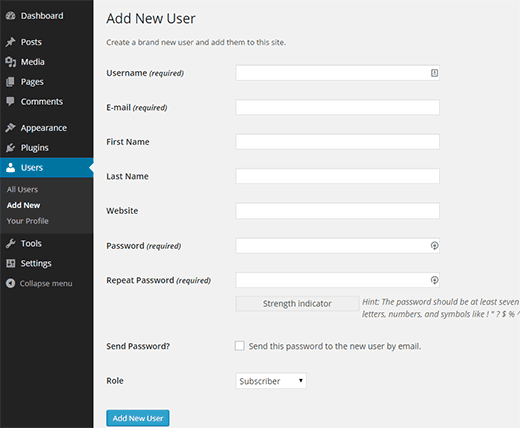 First you need to provide a username, use something that is easy to remember for the user you are adding. They will need to remember the username to login. A good strategy is to use the first letter of user's first name with their last name. For example, tgriffin, jsmith, etc.
Next you need to enter the user's email address. Double check the email address, as users will need this in order to reset their passwords, or to receive email notifications.
You can enter first name, last name, and website information. However, these fields are optional and users can edit their profiles to fill in those fields.
The next item in the form is to choose a password. You must use a strong password. We recommend using an online strong password generator for this purpose. Below the password fields, you will see a checkbox which you can check to send the password to the user via email. The users will receive their login information on the email address you entered above.
The last option on the page is to choose user role. Each user role comes with different set of capabilities. Subscriber is the least powerful role, and administrator or network admin is the most powerful role. You need to choose a role depending on what tasks a user will be performing on your website.
Understanding User Roles in WordPress
WordPress comes with these default user roles:
1. Administrator
2. Editor
3. Contributor
4. Author
5. Subscriber
An administrator can perform all tasks on your WordPress site. It is highly recommended that you do not assign this role to any user unless you trust them. With administrator user role, a user can install plugins, change themes, delete content, media, and other users including other administrators.
If you just want to allow a user to add posts, and edit only their own posts, then you can use the contributor user role. Users with the contributor user role can write posts but cannot publish them. They cannot edit other user's posts and cannot access other admin screens like plugins, themes, settings, tools, etc.
On the other hand, if you want to allow someone to not just add posts but also publish them, then author user role is perfect for that situation. Users with the author user role can add, edit, and publish their own posts.
To give a user complete editorial control on your website, you can give them editor user role. Users with the editor user role, can add, edit, publish, delete their own posts as well as posts by all other users as well. They cannot access website settings, plugins, themes, etc.
A subscriber can just maintain their own profile on your site and cannot write posts. It is usually used on sites where users are required to sign in to submit comments or download content.